Enerquip Sanitary Heat Exchangers
Enerquip produces stainless steel and high alloy shell and tube heat exchangers for a variety of sanitary and industrial applications. We also produce replacement bundles and parts for existing exchangers. Formed in 1985 following the asset purchase of Conseco. Enerquip produces products for Food, Dairy, Beverage, Pharmaceutical Chemical, Power, Pulp/Paper, Waste Water, and Renewable Energy throughout the United States, Canada, Mexico and other international locations. Enerquip is a leader in several markets with a reputation for innovative designs, highly efficient manufacturing, excellent quality and outstanding customer service. Enerquip's corporate headquarters and plant are located in Medford,WI.
Sizes: From 2″ to 48″ diameters, and lengths up to 65 feet
Styles: U-tube, straight tube, and multi-pass designs available
Materials: 304ss, 316Lss, Duplex, AL6XN, Hastelloy, Copper nickel
Types: TEMA B, C, & R type exchangers that are ASME code stamped
Lead-times: Our delivery time is typically half that of many competitors
Enerquip = Fast Delivery "When Schedule Counts"
Customers count on Enerquip to minimize plant down-time and get new projects up and running faster.
Standard designs streamline the drawing approval processand allow us to use standardized parts-often stocked and produced in advance.
Our in-house machining of tubesheets, baffles and bonnets gives uscontrol over the complete manufacturing process-reducing delays.
Enerquip= High Quality
Enerquip is an ASME code autherized manufactuer holding both U and R stamps, approved by and registered with theNational Board of Boiler and Pressure Vessel Inspectors to perform work to ASME Section VIII, Division 1.
We have a line of 3-A approved exchangers for USDA Dairy applications.
We build exchangers to TEMA B, C and R type requirements.
Enerquip designs and builds to CRN for Canada and PED for Europe.
Every exchanger is inspected, hydro-tested and code stamped prior to shipment.
Standard Heat Exchangers: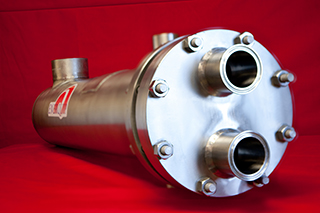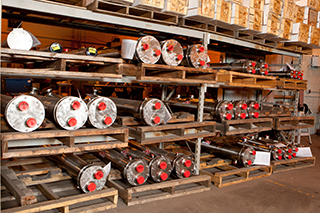 Enerquip has a full line of standard sized heat exchangers available in both sanitary and industrial models for fast delivery. We also stock replacement tube bundles, gasket sets and other parts for our exchangers to support our customers' maintenance programs.
Sanitary Standard U-Tube Steam to Liquid Heat Exchangers (Brochure)
Custom Heat Exchangers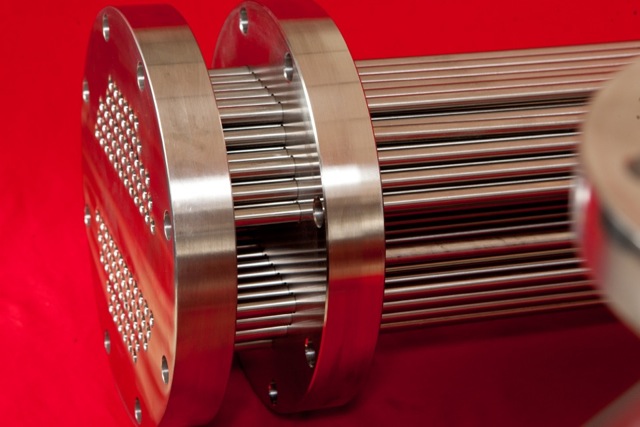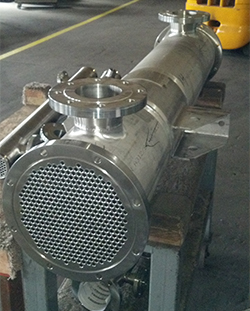 If you need a custom exchanger for a unique heating or cooling application, Enerquip's experienced engineers can design the right exchanger for your process and space constraints. Using the experience gained from building literally thousands of different exchangers, Enerquip applies leading design software and modern manufacturing methods on every new design we create.
Custom Shell and Tube Heat Exchangers (Brochure)
Pharmaceutical Grade Shell and Tube Heat Exchangers (Brochure)
Custom Fabrication