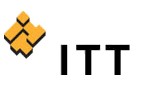 ITT Neo-Dyn
ITT Neo-Dyn
Industrial Switches, Industrial Electrical Switches and Custom Switches from ITT Neo-Dyn.
We offer switches for new and replacement applications. ITT Neo Dyn provides standard
I
ndustrial Pressure switches
,
Vacuum switches
,
Differential switches
,
Temperature switches
,
Sanitary switches
,
Switch Accessories
and custom switches for the industrial, chemical process, and energy markets.
Part Number format for ITT Neo-Dyn:
Example:
100P11C3BL
100P1
= Series and Wetted Materials: The "100" indicates the series and the "P" tells us this is a pressure switch ("T" indicates temperature switch).

The "1" after the "P" incates wetted materials "1" being Aluminum.
1
= Range
:
Adjustable range of the unit

.
C3
=

Electrical
:
This section chooses two key items:
Selects SPDT or DPDT

Selects Weatherproof or Explosion =-proof housing.
BL
=
Options:
Any special options your application may require.
ITT Neo-Dyn General Brochure
Conventional Switches vs ITT Neo-Dyn Switches
ITT Neo-Dyn Definitions & Terminology
ITT Neo-Dyn Media Compatibility
ITT Neo-Dyn Quick Reference Chart
NEMA Specifications




General Purpose Pressure Switches
NEMA 4, 4X & 13

Switches (listed below) are categorized by NEMA standards.
General Purpose Weather Proof-Adjustable:
Compact Weather Proof-Adjustable:
OEM Series Weather Proof-Adjustable:
Tamper Proof Series-Factory Set:
Hazardous Area Pressure Switches
NEMA 7 & 9
Hermetically Sealed/Explosion Proof-Adjustable:
Compact Hermetically Sealed / Explosion Proof- Adjustable
OEM Series Hermetically Sealed/ Explosion Proof-Adjustable
Tamper Proof Hermetically Sealed/ Explosion Proof- Adjustable
General Purpose Vacuum Switches


NEMA 4, 4X & 13
General Purpose Weather Proof:
OEM Series, Weather Proof:
Hazardous Area Vacuum Switches
NEMA 7 & 9
Hermetically Sealed/Explosion Proof:
OEM Series Hermetically Sealed/ Explosion Proof:
General Purpose Differential Switches


NEMA 4, 4X & 13
General Purpose Weather Proof-Adjustable:
Compact Weather Proof-Adjustable:
Hazardous Area Differential Switches


NEMA 7 & 9
Hermetically Sealed/Explosion Proof-Adjustable:
Compact Hermetically Sealed/Explosion Proof-Adjustable:
General Purpose Temperature Switches


NEMA 4, 4X & 13
General Purpose Weather Proof-Adjustable:
Hazardous Area Differential Switches


NEMA 7 & 9
Hermetically Sealed/Explosion Proof-Adjustable:
Both General Purpose and Hazardous Area Sanitary Switches
NEMA 4, 4X, 7, 9 & 13
Junction Boxes and Thermowells
For more information including price & delivery on ITT Neo-Dyn products please:
Email us: sales@southgateprocess.com
Call us at:

(770) 345-0010
Product Categories
ITT Neo-Dyn: Temperature and Pressure Switches
Pressure/Temperature Switches